The Making of Cheng's Atelier Clothing 郑惠中布衣制作过程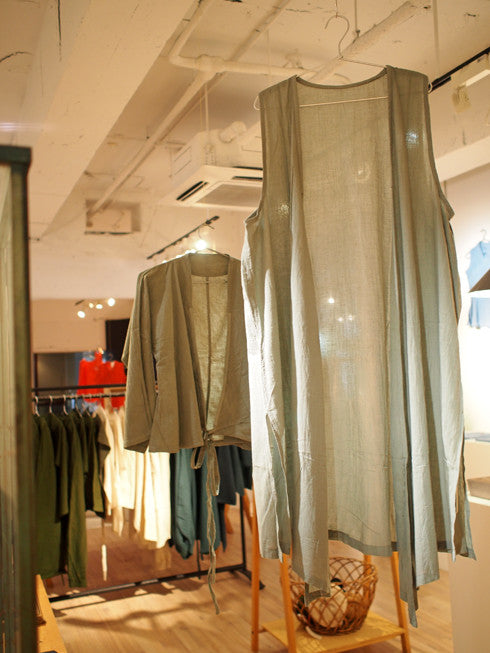 Artisan designer Cheng Hui-chung produces his work in his studio in Taipei. He uses a natural technique, which in this age of mass production is rarely used.

     A whole process of making a piece of garment takes around two months from the initial fabric weaving. Unlike factory production where fabrics are dyed before they are cut and make into clothes, Cheng make the clothes before color dying process.
     To prepare the dying process, most textile makers use strong acids or alkalis for desizing, but Cheng uses traditional enzymes. Clothes are socked in enzymes for 6-8 hours.  Thus, the natural quality of fiber is retained, leaving the fabric very soft and comfortable.
     The same dye is used repeatedly for different batches of clothes, thus creating different tones of colors. In that way, water wastage is reduced and there is less harm to the environment. Cheng even designs the equipment he uses to dye fabrics, which reduces wastewater. "Zero carbon emissions" is a principle that Cheng holds dearly.
     Fabric usually shrinks after the first wash.  For Cheng's garment, the shrinkage is around 22 ~ 24%.  As the fabric shrinkage has already taken place during the dyeing process, Cheng's garments do not shrink when you wash them at home.
     No chemical fixer is being added to the dye.  Colors are fixed by using boiling water.  As such, we always recommend you to use room temperature water to wash the garments to ensure color-fastness. Garments are dried naturally.
     Ultimately, the natural process used translates into a feeling of natural and comfortable feel when a Cheng's garment is worn.